Analysis
Laos, hoping to increase its exports and attract tourists, has built the Laos-China Railway joint venture with China, its most important export market and trading partner.
Construction took five years and the railway officially opened at the end of 2021. But as the Chinese economy currently seems to be at a standstill, Laos finds itself in a position where it may have to pay off its railway construction debt with its natural resources. .
The June China Economic Update from the World Bank predicts that China's real GDP growth will slow to 4.3% in 2022, meaning that China's import demand will fall, a new blow to the already fragile economic situation in Laos.
In April, the World Bank announced that inflation in Laos had risen from less than 2% in February 2021 to 9.9% in April this year. This is the highest level in more than a decade and has significantly threatened Laos' standard of living, especially for low-income households.
Public debt levels in Laos have also increased significantly since 2019. Preliminary World Bank estimates indicate that total and publicly guaranteed (PPG) public debt has increased from 68% of GDP (12.5 billion) in 2019 to 88% of GDP ($14.5 billion). in 2021. About 50% of public debt comes from Chinese creditors.
Laos is required to repay an average of $1.3 billion in public external debt per year from 2022-25, or half of its projected domestic revenue. But Laos' foreign exchange reserve is only $1.3 billion in December 2021.
Use borrowed capital
In recent years, Laos has invested heavily in infrastructure with borrowed capital, most of which came from the Chinese Communist Party's "One Belt, One Road" funding. The 418 kilometer Laos-China Railway is one of them.
The Laos-China Railway runs from the northern border town of Boten to the capital Vientiane. More than 60 percent of the route is bridges and tunnels with a planned operating speed of 160 km/h. It cost nearly RMB 40 billion (about US$5.9 billion) in total, which was split at a 7:3 equity ratio between Chinese companies and the Laos government.
Many Chinese companies are involved in the project from construction, supervision, third-party inspection to rolling stock supply. Companies include China Railway Group Limited, Power Construction Corporation of China, Tianjin New Asia Pacific Engineering Construction Supervision Company, China Railway Southwest Research Institute, CRRC Qingdao Sifang Locomotive & Rolling Stock, and CRRC Dalian.
Laos-China Railway uses Chinese equipment and materials in accordance with Chinese technical standards, it connects with another 595-kilometer railway in China that goes to Kunming, Yunnan province, one step closer to several centers finance in China.
The Laos-China railway is only the first stage of the Chinese Communist Party's Trans-Asian Railway project, as it is planned to expand to Thailand, the Malay Peninsula and Singapore.
It is obvious that Chinese companies can benefit massively from this project, and as for the Chinese Communist Party (CCP), with their 70% stake in the project, they can control the operation and revenues of the Laos-China Railway. as well as advancing their geopolitical ambitions.
In fact, in order to put the railway plan into action, the CCP not only offered to provide a loan to Laos, but also did so with a 5-year grace period, Laos did not need to start to repay the loan until construction is complete.
According to the agreement, Laos was to contribute nearly $2 billion to the Laos-China railway project and 30% of the project's initial capital to China. According to an article by The News Lens on December 1, 2021, these two components were almost entirely covered by a loan granted to Laos by the Export-Import Bank of China.
However, China has demanded that if Laos is unable to repay its debts, it must be repaid with natural resources. The energy minister added that Laos' 5 million tonnes of mineral resources could be used to repay debts to China.
Laos' economic situation is currently very pessimistic, and China's lockdowns on key economic areas, such as Shanghai, between March and May this year have hit the economy hard.
China's economic growth rate expected to decline
The World Bank report indicates that even with an economic recovery, China's real estate sector will continue to be affected by the deleveraging of real estate companies in the short term.
The reduction of industrial carbon emissions will also affect the production chains of Chinese companies and the "Zero-COVID" measures have depressed the service sector. At the same time, China faces the negative impact of a declining labor force, falling returns to capital, economic distortions and an aging population.
China is the largest source of export revenue for Laos. From 2020 to 2021, Laos' exports to China increased from $2 billion to $2.6 billion. Major exports to China include copper concentrate and other metallic minerals, pulp, paperboard, rubber, fruits, nuts, rice, corn and other grains.
The World Bank predicts that China's economic slowdown will negatively impact the exports and production of East Asia and Pacific (EAP) countries, including Laos, Thailand and Vietnam. Moreover, the impact of the war in Ukraine and rising global inflation will reduce GDP growth in the EAP region to 5% in 2022 from 7.2% last year.
The economic slowdown and lower export earnings are increasing Laos' risk of default on its loans. Previously, Laos had repaid some of its debts with natural resources.
Laos is endowed with water resources and has long wanted to specialize in hydroelectricity and has built many dams on the Mekong. But that comes with the cost of huge debts, including the "One Belt One Road" initiative.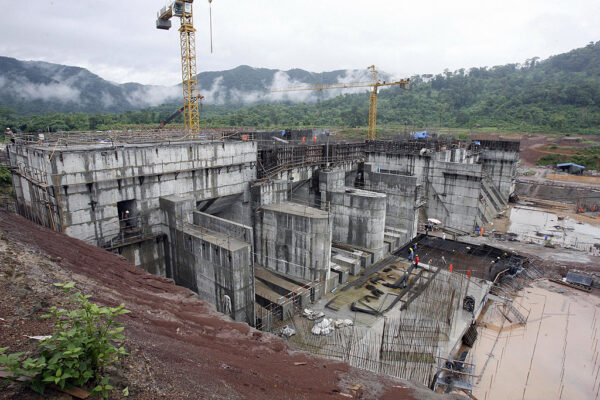 According to the World Bank, Laos' energy sector – managed by Electricité du Laos – accounted for over 30% of the country's total PPG debt by 2021. And it has been unable to service its debts , the government of Laos used debt to equity. swap to give control of the country's electricity grid to a Chinese company.
In September 2020, Electricité du Laos sold a majority stake to China Southern Power Grid. The two parties signed a 25-year concession agreement that allows China Southern Power Grid to build and operate Laos' power grid, including the export of electricity to neighboring countries.
China's demand for countries to repay debt with their natural resources has also occurred in other countries such as strategically important Sri Lanka.
Sri Lanka was forced to sign a 99-year lease in December 2017, handing over the assets and operation of Hambantota Port to China Merchants Group, a state-owned company under China's Ministry of Transport, due to its inability to repay the huge debt incurred for the construction of the port.
There is usually a confidentiality agreement when the CCP signs contracts with other countries through the "One Belt One Road" program, which means that the citizens of these countries will not be aware of the potential risks involved. Christoph Trebesch, a German academic, told RFI that the CCP manipulates the strictest conditions to try to control the internal affairs of this country.